Great links for Diet and Exercise
Come back daily for new items

Dieting and Health in a Smart Way

I will be updating this section every time I see something that is worth sharing with you. It will be great tips and resources to help with our every day battle of the bulge and trying to stay healthy. So come back often and check out what was added. And check out my categories on the menu bar for great resources from all over the web. They will update as well.


---
Fat Flush Soup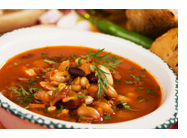 Here's a great soup I use often to help shed a few pounds without feeling hungry. It is very filling at only 150 calories per cup and very healthy. Find out more about the Fat Flush Soup diet at http://www.annlouise.com/blog/2011/10/04/my-famous-fat-flush-soup-recipe/ Fat Flush Soup
2 tsp. olive oil
1 ¼ lbs lean ground beef, turkey or shredded chicken
1 onion, chopped
2 cloves garlic, chopped
1 bell pepper, seeded and chopped
8 oz. mushrooms, chopped
1 (14 oz.) can crushed tomatoes
1 (32 oz.) bottle reduced-sodium tomato or vegetable cocktail juice
1 Tbs. fresh lemon juice
1 (14 oz.) can black, navy, red or pinto beans rinsed and drained
1 Tbs. ground cumin
1/8 tsp. cayenne, or to taste
¼ cup each fresh cilantro and parsley, chopped
In stockpot, heat olive oil over medium-high setting. Sauté meat/poultry until cooked through, about 5 minutes. Drain and set aside.
Sauté onion, garlic, peppers and mushrooms until soft, about 5 minutes.
Stir in remaining ingredients, except cilantro and parsley. Cover and simmer 20 minutes. Stir in cilantro and parsley.
Cover; simmer 10 minutes longer. Store soup in refrigerator up to 5 days. Freezes well. Make 12-14 cups. 1 serving = 3 cups.
A Tip from our Fat Flush test kitchen:
For a chunkier soup, add a 28 oz. can of diced tomatoes.
Note:
For me personally, I use dried parsley for convenience and refrigerated cilantro that comes in a tube from Gourmet Gardens as it keeps longer in the refrigerator. I have made this soup over and over. I also cheat a bit and put a sprinkle of grated cheese on top. So yummy. (If you are on a paleo diet, replace beans with more veggies of your choice). Also, there is no way I can eat 3 cups as stated as 1 serving. 1 1/2 is a good serving for me. I often double the recipe and freeze half.
The Complete Fat Flush Soup Diet
Here are the basics:
1. A protein-rich breakfast
2. 2 daily servings of soup
3. Fat-flushing snacks
Tip:
Make sure you drink plenty of water (about ½ your body weight in ounces of water daily).
---